When you see a historic building needing maintenance, what can you do?
This page brings together some hints and tips.

Getting Started
It is tempting to think that the most effective route is to contact the local planning authority to ask it to press the owner to do repairs.
In our experience, however, it is often more effective to contact the owner directly and ask for remedial action. Some owners – notably those with an important reputation to defend – are often more sensitive to adverse publicity (particularly in the social media) than they are to pressure from local authorities.
It is helpful to assemble some data about the buildings you are concerned about – for example, whether they are listed as historic buildings, or included in a Conservation Area. This data is readily available from the web site of the local planning authority such as the district or unitary council.
The web sites of Historic England and its equivalents in Scotland, Wales and Northern Ireland also have searchable information on listed buildings and lists of some of those they deem to be "at risk".
Building neglect often starts while the building is still in use – indeed, poor maintenance is often the reason a building goes out of use, sometimes suddenly when for example, a ceiling collapses and the building becomes unusable.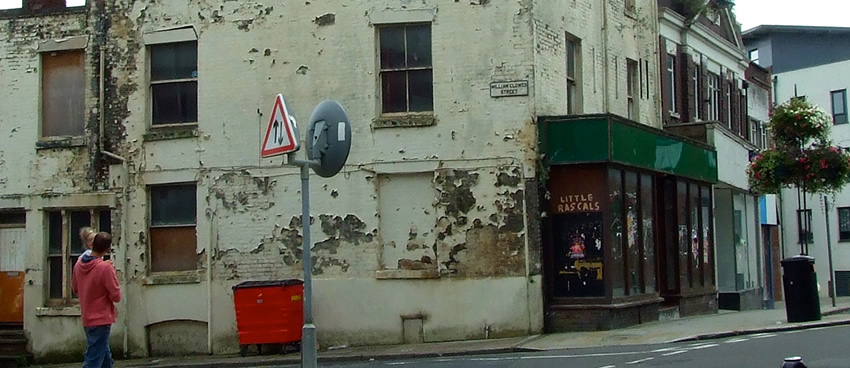 Burslem (Stoke on Trent) A neglected building casts a pall of blight around the whole area:
Do a Walkabout and take photos
Take a close look at the buildings you care about and spot the clues that maintenance is being skimped. Doing this while it is raining is helpful. Take digital photos that have a date stamp on them.
Among the clues are:
• Buddleia and other plants growing out of gutters and downpipes: a sure sign that there is no regular inspection or gutter-clearance regime
• Water flowing down walls from blocked gutters or downpipes (during rain)
• Overflows from cisterns caused by failed stop cocks (for example, in cold water tanks or lavatories);
• Damp patches (even in dry weather)
• Slipped slates or tiles – which may be letting water into the building, sometimes into disused upper floors, allowing wet- and dry rot to start
• Cracked or missing gutters or downpipes – allowing rainwater to saturate walls and allowing rot to start
• Cracked or open windows, often allowing pigeons and other birds to enter the building
• Ivy or other foliage growing out of control which can often displace gutters and downpipes and grow through windows; and
• Insecure doors and windows: allowing trespassers to gain access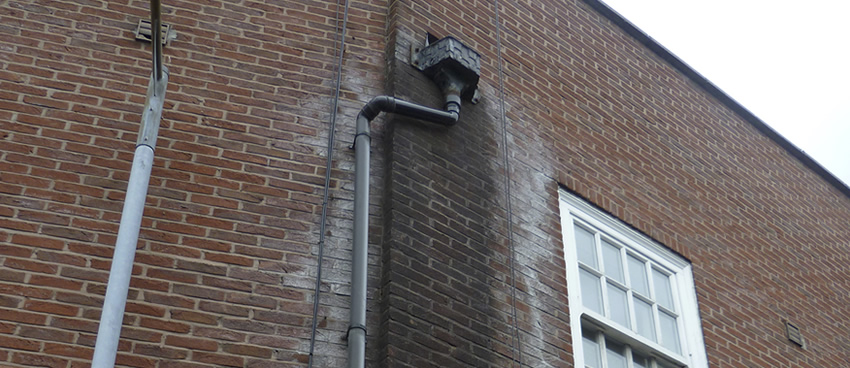 Blocked rainwater headers are unsightly and cause staining, damp and dry rot.
What to do Next
This depends on whether the building is still in use, its historic building status and its ownership and use.
For Buildings in Use
The best approach is often to go into the building and speak to whoever is responsible for its management. Politely make known your concerns; ask if he or she is aware of the defects you have noticed and inquire to whom you should write and ask that something be done about them.
The premises may well be leased from a landlord, and the question is therefore who has responsibility for repairs – the landlord or the tenant. In larger commercial premises this may well be tenant rather than the landlord. If it's a smaller building, it is likely to be the landlord. In either case – ask for the email address of the person whose role it is to repair the building.
If this is not forthcoming for any reason, ask for the name of the Chief Executive or equivalent of the organisation occupying the building. If that doesn't work, one can identify the owner of the building via the Land Registry (see below) in England & Wales.
If the building – or any part of it – is a "workplace" under Health & Safety legislation, then there are legal requirements to maintain it and ensure that it is safe for workers and passers-by, and official guidance to inspect it regularly. Refer to our page on workplace maintenance for further guidance and if necessary print off our Briefing and give it to the manager.
Having established more of the background, it's time to email either the manager concerned – or the Chief Executive. Explain who you are and why you are writing. Attach the photos you have taken and ask politely for immediate action to be taken to remedy the defects.
If necessary attach our Briefing  on Health & Safety. If this doesn't get a satisfactory reply, it may be time to contact the local authority – see below.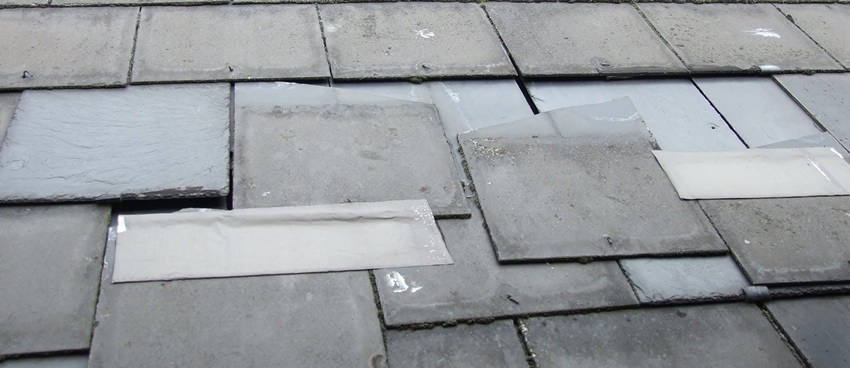 Slipped or cracked tiles usually mean major water ingress and require urgent attention
For Unused Buildings
Identify the owner and request action to remedy the defects. If identifying the owner is difficult, there are usually some clues from signs or notices on the building about its ownership. Neighbours can often be very informative.
If these fail, the Land Registry has a system you can search to identify the owner for properties in England & Wales. You will need an email address and a credit/debit card and the current charge is £3 per "title" you look for (and you may have to make several searches to find the correct one).
This will yield the name of the owner – which may of course be a company not even registered in the UK. Further searches and Google may be needed to find who to contact.
The Role of the Local Authority
Local authorities have two key roles here: first, as a planning authority, they control development and have powers – not always very effective – to order owners of buildings – historic or not- to carry out repairs. (See below).
Secondly, local authorities have duties to protect the public against dangerous buildings and they enforce some of the building owners' health & safety duties. Usually this is a different department from the one that deals with planning issues.
So they have to take seriously any reports that buildings are being neglected – particularly if they are historic buildings, workplaces, or adjoin streets or other public places.
This is a very brief summary of what they can do.  A much more detailed description of their powers is set out in the Historic England/IHBC publication "Stopping the Rot" (2nd edition, 2016)
If the building is a listed historic building, the authority has powers to require urgent repairs – but only if the building is unoccupied (or to a part of it which is occupied). This is under section 54 of the Planning (Listed Buildings and Conservation Areas) Act 1990.
If the building is not listed but is in a Conservation Area, there is a process which can lead to this power being exercisable on the building – with Government permission. This is under section 76 of the Act.
The local authority can also require the full repair of a listed building – occupied or not – but only under the rather unlikely threat of compulsory purchase. This is under section 47 of the 1990 Act.
There is also a power to serve a notice on the owner of land or buildings adversely affecting the condition of neighbouring land and buildings, requiring that the situation be remedied. These notices set out the steps that need to be taken, and the time within which they must be carried out. LPAs also have powers under s219 to undertake the clean-up works themselves and to recover the costs from the landowner. This is under section 215 of the Town & Country Planning Act 1990.
Under their public protection duties, a local authority can order building owners to carry out repairs to a defective building or do them itself under the Building Act 1984 and the Environmental Protection Act 1990. It is important to note that if the defective building is listed or in a Conservation Area, the local authority is obliged to consider using its historic building repair powers first.
The local authority also enforces the rules under the Health & Safety Act 1974 in relation to some buildings, so it should in principle be prepared to act if there is evidence that a workplace building is not being regularly inspected or maintained.